'The 10th edition of Festival Jovens Músicos organised by our member competition Prémio Jovens Músicos and other partners, has unusual characteristics since, for the first time in 10 years, its program does not include the revelation of new laureates. The festival events take place in different parts of the country, with several concerts (open to the public) in different rooms and transmissions through Antena 2, RTP 2 and RTP Palco.
To complement the program, the Festival will also include the transmission of several moments from previous years' editions and, also, the availability in streaming of concerts kindly provided by Casa da Música.
The realization of the festival in the adverse context that we are going through, seeks to meet the expectations of the public and young musicians, creating conditions to continue to give visibility to the work of those who did not want to stop attending. Even with the contest not finished, the festival assumes a particular relevance and symbolism, transmitting a message of resilience with the notion that musical life can begin to recover its important space in the country's cultural life.
The Prémio Jovens Músicos and Antena 2 intend, therefore, to help revive the environment, counteract the stagnation of the last few months and prevent young musicians from feeling the discouragement of having their projects on hold.'
Luís Tinoco
Director of the Prémio Jovens Músicos and Festival Jovens Músicos
The festival will end with a concert by the Gulbenkian Orchestra, which presents the first absolute hearing of the work 'Point of Departure' , by the young composer Jorge Ramos – winner of the SPA / Antena 2 Composition Award, which, in the 9th edition, proposed the theme Seas and Oceans as starting point.
The concert also includes the return of two previous PJM laureates – clarinetist Telmo Costa and flutist Adriana Ferreira – who perform as soloists performing two magnificent concerts by Wofgang A. Mozart and Jacques Ibert.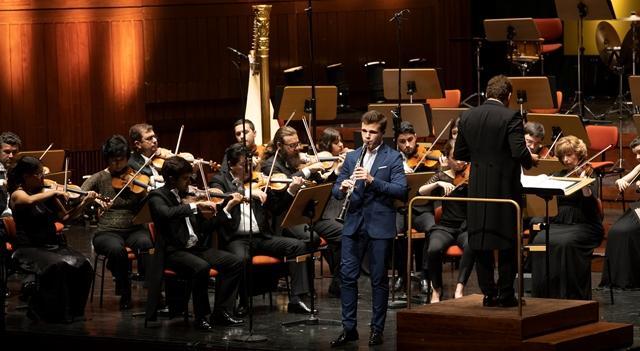 Opening the program, the orchestra also interprets two movements of 'Au gré des ondes' ("at the whim of the waves") – one of the first piano works by the French composer Henri Dutilleux. Composed of six pieces of character, it was the result of an order from Rádio France and, as the scholar Caroline Potter suggests, the title probably explores a pun on the waves of 'sea' and 'radio'. British composer Kenneth Hesketh (a former student of Dutilleux) would later orchestrate this score, describing it as "a delightful composition echoed by Ravel, Milhaud, Poulenc and other contemporaries".