Three countries, three ensembles, three locations – one concert on 2 October 2021: YOUNG DIGITAL CLASSIC wants to inspire new and younger audiences for the world of classical music with an online and live concert. An experience that overcomes national borders and makes digital possibilities visible.
The three ensembles Quintetto colorante from Austria, Piano Trio Alla Mente from Lithuania, and Trio Sonos venti from Luxembourg have been working together over the past months in online workshops on the following topics: Concert organisation and performance, marketing and social media, program and music education, moderation and presentation and digital performance technology.
Now, together with the partner organisations, they are working on the concept for the hybrid concert on 2 October 2021: a joint concert will take place in all three countries on the same day, at the same time, which can be experienced LIVE, but will also be broadcast ONLINE. A concert that opens up an online and offline experience for the audience.
Young Digital Classic is part of the EU project B.R.A.N.D. NEW, which MUSIK DER JUGEND (AT) is implementing in cooperation with EMCY (European Union of Music Competitions for Youth) and the partner organisations UGDA Music School (LUX) and Center for International Cultural Projects (LTU).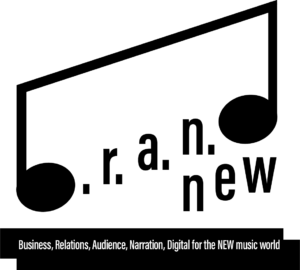 Let's meet the participants now!
Quintetto colorante (AT): Paul Rischanek, Thomas Mayrhuber, Lydia Küllinger, Clara Hinterholzer, Maximilian Riefellner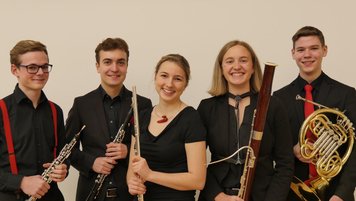 The ensemble Quintetto colorante is a woodwind quintet founded in 2019 with five young musicians from Upper Austria. They got to know each other in the context of orchestra and chamber music projects and were enthusiastic about the idea of making music together in an ensemble. Their first big goal, the provincial competition of 'prima la musica' 2020, made them grow together and new ideas and projects matured in us. Unfortunately, they have not yet been able to put promising concepts into practice due to the current situation. 'We were all the more pleased when we became aware of the YOUNG DIGITAL CLASSIC project, as it offers us the space and the opportunity to gain joint experience despite the currently difficult circumstances', so the young musicians.
'It is a great concern of ours to follow the zeitgeist of our digitalised world and to deal with digital formats, concert organisation, and social media. Especially recently, we have become more and more aware that other aspects are extremely important besides diligent practicing. A musician in the 21st century is no longer characterised by the sole mastery of his or her instrument, but above all by his or her ability to offer a musical experience. This project offers us the perfect opportunity to further educate our musical personalities. We see it as a great opportunity to deepen our skills in music education, stage presence, and the use of digital stages.'
Piano Trio Alla Mente (LT): Viktorija Vorobjovaitė, Rugilė Juknevičiūtė, Pijus Česaitis.
All of the members of Piano Trio Alla mente have been studying at the National M.K.Čiurlionis School of Arts since the first grade and started playing together in September 2020. Even though all three of them usually appeared as soloists. But when they started playing together, they realized that they are able to reveal the immense power of music by simply fostering the musical ideas together. The young musicians from Lithuania realized that they are united by common values and inexhaustible love of music. The three are the youngest ensemble of the YOUNG DIGITAL CLASSIC project and they hope that this project will help to get to know the music world better and will motivate them to achieve goals and implement future projects. 'Thank you for this opportunity', so the young musicians.
Trio Sonos venti (LUX): Jéremy Ney, Sally Nickels, Julie Colin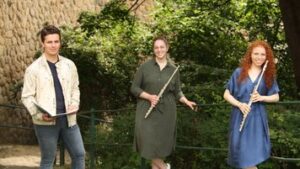 Sonos venti: sounds of the wind. This name refers to the instrument around which this ensemble is built: the flute. Flutists Sally Nickels and Julie Colin and pianist Jeremy Ney are 3 young musicians from Luxembourg who decided to create this trio in order to participate in the YOUNG DIGITAL CLASSIC project. All three know each other for many years from high school and their studies at the Music Conservatory in Luxembourg City. In the meantime, Julie has finished her Bachelor's studies in the flute class of Denis-Pierre Gustin at the 'Institut Royal Supérieur de Musique et de Pédagogie' in Namur. Sally is currently doing her Bachelor's in the flute class of Valerie Debaele at the 'Conservatorium Maastricht'. Jeremy is studying his Master of piano and pedagogy in the class of Susanna Kadzhoyan at the 'Hochschule für Künste Bremen'.
How can classical music become available for all generations, for all parts of society, and not only some privileged ones? How can one present this music to younger audiences and create something new out of it? As the 3 young musicians are coming from a very multicultural country and studying at different places in Europe, the international idea is already among them. Why should it be different from music? No language is as international and global as the musical one. And that's the trio's perspective: to play music for national and international audiences and make it available for everyone, using new media and trying to reach new target groups.
Sourse: Musik der Jugend