Italy's 2022 Il Piccolo Violino Magico Competition announces the candidates of this edition that will be held in San Vito al Tagliamento, Italy from July 5 – 10, 2022
Open to violinists of any nationality 13-years-old and younger, the first prize winner will receive €5,000, an instrument made by contemporary Italian violin maker Fabio Piagentini, and a number of important concert engagements.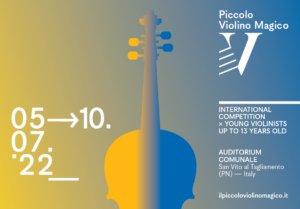 This year's competition will be streamed live on The Violin Channel and we recently discussed the upcoming competition with Domenico Mason, head of the competition.
The 2022 jury will comprise Pavel Vernikov (President of the Jury), Elisa Citterio, Aleksey Igudesman, Min Lee, Ruta Lipinaityte, Jacobs Soelberg, Svetlana Makarova, and Eduard Wulfson.
The competing candidates include:
Cheng Jacob (Singapore)
Chia Mark (Singapore)
Demetriades Sofia (UK)
Erokhin Gomez Alexander (Spain)
Hahn Ivy (United States)
Iannuccelli Leonardo (Italy)
Jarvis Audrey (Australia)
Kawase Mako (Japan)
Koch Kira Elisabeth (Germany)
Lee Elisabeth (USA)
Pazhik Marianna (Poland)
Peña Aguirre Juan Jose (Switzerland/Colombia)
Presler Estelle (Switzerland)
Syguda Zoja (Poland)
Unseld Edna (Switzerland)
Yakin Deniz (Turkey)
Yeh William (Taiwan)
For further details, visit www.ilpiccoloviolinomagico.it