Open to violinists of any nationality up to 13-years-old and younger, the Il Piccolo Violino Magico Competition, in San Vito al Tagliamento, Italy, announced its 2022 winners. The final rounds were streamed and you can check it here:
Edna Unseld from Switzerland received first prize, which included €5,000, an instrument made by contemporary Italian violin maker Fabio Piagentini, and a number of important concert engagements.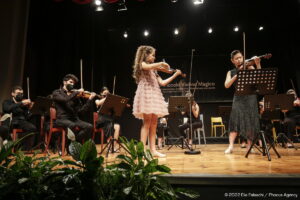 Joint Second Prize was awarded to Mark Chia, Sofia Demetriades, and Juan Jose Peña Aguirre, while third prize went to Kira Elizabeth Koch .
The 2022 jury comprised Pavel Vernikov (President of the Jury), Elisa Citterio, Aleksey Igudesman, Min Lee, Ruta Lipinaityte, Jacob Soelberg, Svetlana Makarova, and Eduard Wulfson.
The participants played with the Accademia d'Archi Arrigoni Orchestra and the Friuli Venezia Giulia Region Orchestra.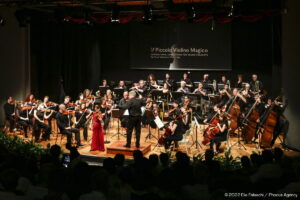 First prize winner Unseld Edna regularly performs in the youth orchestra Stringendo Zurich, string quartets, and a violin duo. In 2021, Edna was invited by Maxim Vengerov to his online masterclass. That same year, she won the 3rd prize at the International Leonid Kogan Competition in Brussels and played under the direction of Gilbert Varga with the "Pannon Philharmonic" Orchestra in memorial concerts for Tibor Varga in Hungary and the Liszt Academy in Budapest. A student at the Musikschule Konservatorium Zürich (MKZ) under Jens Lohmann, she also won the 2022 Swiss National Competition with distinction.