The 36th edition of the Concours Luxembourgeois pour Jeunes Solistes & European Competition for Young Soloists took place on Sunday, November 10, 2019. The disciplines for this year's European competition were oboe, bassoon, horn, piano solo and chamber music (percussion trio). The event was organised by the UGDA Music School in close cooperation with the Conservatoire de la Ville de Luxembourg.
A total of 140 talented young musicians, 134 soloists and 2 ensembles (6 candidates) from 20 different nationalities presented themselves before an international jury. The musical presentation was of high quality, both on the national and international level. The jury awarded 138 medals, 52 gold (56-60 points), 64 silver (50-55.9 points) and 22 bronze (45- 49.9 points). Furthermore 13 SACEM prizes and 30 special prizes were conferred.
In the framework of the competition, the UGDA Music School, with the generous support of the society of authors' rights SACEM Luxembourg, commissioned the composers Olivier Dartevelle, Luc Grethen and
Tatsiana Zelianko to create three pieces which were premiered during the competition.
The top laureates of the Concours Luxembourgeois pour Jeunes Solistes were Louise Brakonier (flute), Louisa Sieveke (recorder), Felix Michelis and Catherine Treinen (clarinet), Félix Weis (alto saxophone), Daniel Migliosi  (trumpet), Julie Tonnar (fluegelhorn), Thomas Cremmer (euphonium), Elizabeta Tomac (violin), Filip Tomac (violoncello). For the European Competition for Young Soloists the top laureates were Monika Maria Gradkiewicz (Poland), Charlotte Devitt (Luxembourg/France) and Anouk Vandenbussche (Belgium) for the oboe, Augusto Palumbo (bassoon) (Italy), Marco Delbrassinne (French horn) (Luxembourg), Sofiia Steblovska (piano) (Ukraine) and chamber music group (percussion trio) Ensemble of Stuttgarter Musikschule (Germany).
The EMCY prize for 2019 was awarded to Daniel Migliosi, the "Jonk Soliste Präis" was conferred on Catherine Treinen and the Radio 100,7 Prize was awarded to Val Kravos (Luxembourg/Slovenia).
The closing concert was given by the European Union Youth Wind Orchestra (EUYWO) under the direction of Dutch conductor, Jan Cober.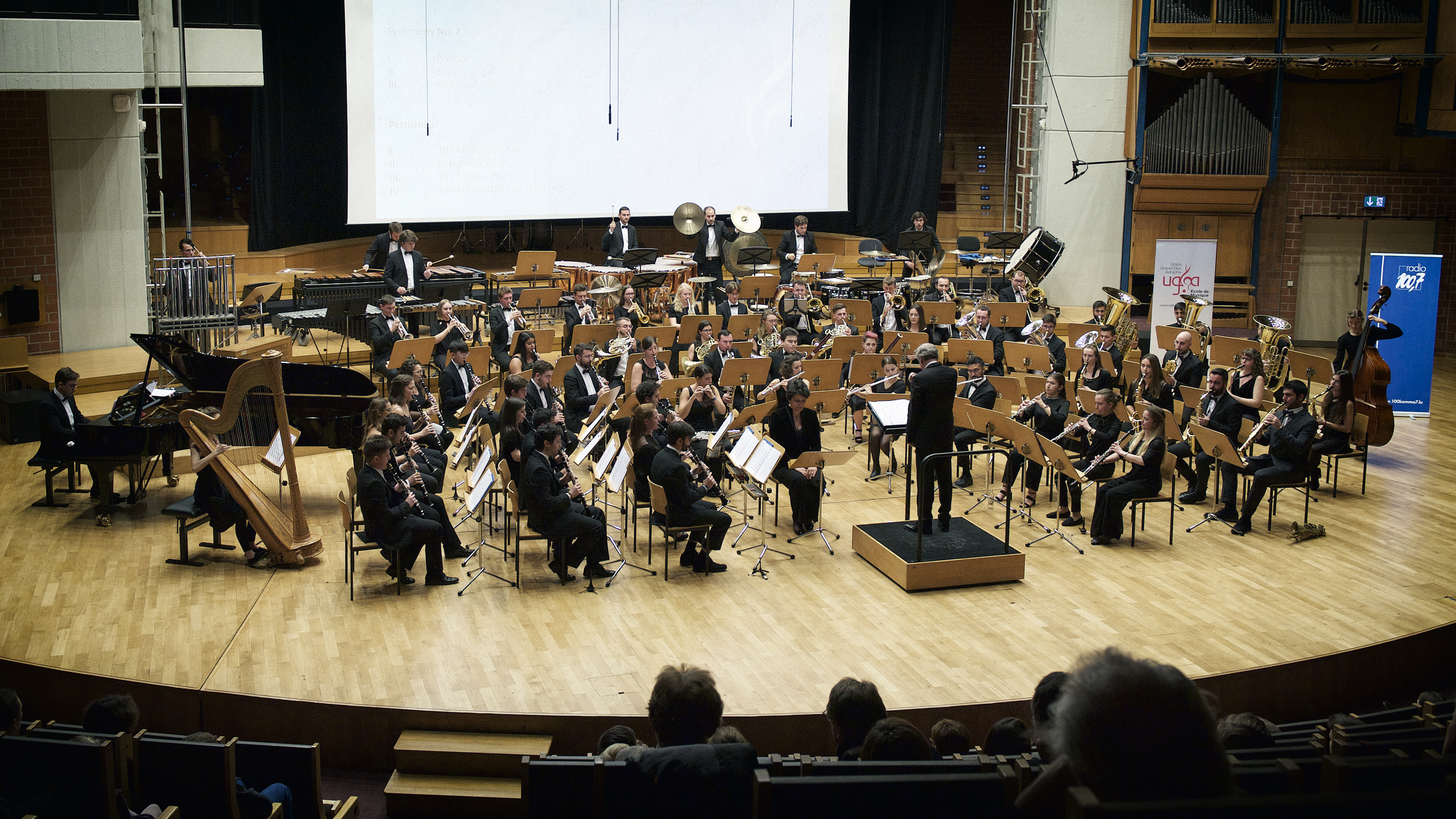 Photo Credit ©  J.M. "Lupo" Ludowicy
UGDA would like to give a special thanks to the Ministry of Education. Furthermore, we would like to thank all the institutions, sponsors and protectors who support the competition, notably the Conservatoire de la Ville de Luxembourg which allows us to organise this competition every year and helps promote young musical talents from Luxembourg.