Last week the 55th edition of Smetana International Piano Competition took place in Pilsen, Czech Republic. This Piano competition is organized every two years by the Conservatory of Pilsen in collaboration with Czechs music experts that concentrate their forces to point out new talents, from all over the world.
The competition had three age categories: the first one, for participants until 16 years old, consisted in one round only. The second category had an age limit of 20 years old and was developed in two rounds. The third one complies with the age limit of 30 years and had three rounds. At the end of these three, just four artists were selected for the finals, where they played with the Pilsen Philharmonic Orchestra.
Outstanding artists and piano teachers from the Czech Republic and from abroad constituted the experienced Jury. The repertoire allowed the players to be tested in the execution of classical pieces but also to bring their own choices to the attention of the judges.
This year many performers have been awarded:
1st category 1st PRIZE Vlčková Eliška
1st category 2nd PRIZE Tkadlčíková Eliška
1st category 2nd PRIZE Jaklová Veronika
1st category 3rd PRIZE Koudelková Magdalena
1st category Certificate of Merit Davydov Fedor
1st category Certificate of Merit Filipová Barbora
1st category Certificate of Merit Grischenko Algerd
2nd category 1st PRIZE Skripachev German
2nd category 2nd PRIZE Ayvazyan Kristine
2nd category 3rd PRIZE Škrobánek Jan
2nd category 3rd PRIZE Ushakova Marharyta
2nd category 3rd PRIZE Kwan Hsin-Yu
3rd category 1st PRIZE Vasileva Darya
3rd category 1st PRIZE Vrána Tomáš
3rd category 2nd PRIZE Trubač Vojtěch
3rd category 3rd PRIZE Langerová Lucie
The most remarkable quality of this piano competition is the freedom of expression leaved to the single performers, which emphasizes the personal qualities and virtues of young artists. This is a crucial aspect in classical music sector, where too often rigidity of repertoires and executions doesn't allow the discipline to move forward. Therefore, congratulations should be delivered to this amazing competition and to its news medalists.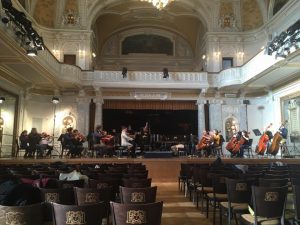 © Copyright http://www.piano-competition.com/photogallery.php?lang=en