From 11th to 16th October 2022, the 12th International Interpretation Competition for Ostracized Music – Verfemte Musik, organized by Jeunesses Musicales MV, took place in Schwerin. The competition is dedicated to composers and musicians who were persecuted and murdered during the Nazi era or whose works were banned. Young musicians were motivated to interpret and deal with works that, due to the political bans of the time, are hardly ever performed today.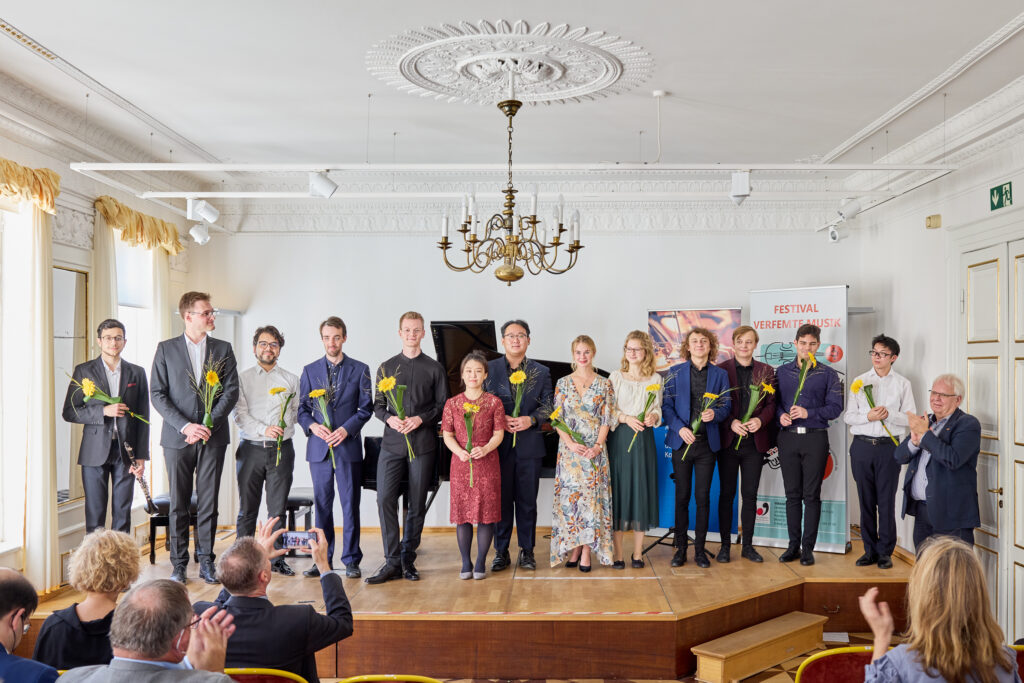 Now the prize winners have been announced and have given an insight into the rehearsed works at a concert. "The level is getting higher and higher each time," said jury member Dr. Ulrike Anton from Austria. For the director of the festival, Volker Ahmels, October 16 was a very special day, not only because the winners of the competition were able to celebrate, but also in memory of 1944, when many artists, including some composers, were transported from Theresienstadt to Auschwitz and murdered.
This year's prize winners are:
Special category "Solo Concert"
1st prize: Alexander Prill (saxophone)
In the 2023/24 season he will have the opportunity to play the Concerto for Alto Saxophone and Orchestra by Ingolf Dahl (1912-1970) as a soloist with the Mecklenburgische Staatskapelle.
Category 1-6
Piano solo and duo, voice, string and wind instrument with piano and Special duo instrumentation
Prizes
In the preliminary round more than fifty participants from twelve nations played in the six categories. Twenty-three participants were forwarded to the finals, where they competed for the coveted prizes. A total of 12,000 € in prize money was distributed among the winners in these categories. In addition, there were opportunities to perform at various concerts. Special prizes were donated by exil.arte Vienna, the state of Mecklenburg-Vorpommern and the European Union of Music Competitions. The best interpretation of a work by composer Dick Kattenburg also received a prize.
Prize winners:inside of the interpretation competition
There was a split 1st prize of 4000 € for each duo.
– Arkadiusz and Sebastian Godzinsky (piano duo)
– Ruben Mirzoian (clarinet) and Philipp Thönes (piano)
3rd prize endowed with 1000 €: Ryo Yamanishi (piano)
The EMCY prize winners are the duo members: Theresa Zschunke (voice) Hannah Hauser (piano)
Other Events:
– Exhibition: "Arnold Schönberg – the Creative Genius" until November 20 at the Kulturforum Schleswig-Holstein-Haus.
– Cabaret: "Mephisto Consulting" with Matthias Deutschmann on November 7, 7:30 p.m. at the Kulturforum Schleswig-Holstein-Haus.
– Concert: as part of the KONtakte series on November 18, 7 p.m., in the Brigitte Feldtmann Hall at the Schwerin Conservatory.