Besides competitions, prize winners, events and online contents, we would like, this time, to propose an interesting alternative to the usual EMCY news. Of course, we are talking about music and after a month full of piano competition why not read more about this world!?
PIANIST, the magazine for piano lovers is an stimulating and delightful booklet where you can find everything you need to know about piano. Here you can read about technical information, renowned piano houses, festivals, contest and interviews to Arcadi Volodos, Guido Zimmermann Steinway & Sons, Tabea Zimmermann, Béatrice Rauche, Dina Ugorskaya and many more. Moreover, there is also an annual edition dedicated to the world of piano competitions included and available also online.
As they say:" In short: indispensable for every piano lover!".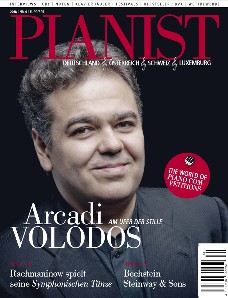 PIANIST is a magazine of Forte Media Company. It is available in the following countries: Germany, Austria, Luxembourg, Switzerland, Lichtenstein, the Netherlands and Belgium. But don´t worry there is also a website with much other information and also a preview of the last edition is there available. Check also the World of Piano Competitions magazine. Enjoy.