The PIANALE International Competition started on 1st of August with many masterclasses that finished last week. The competition is organised in close cooperation with the city of Fulda, the Frauenberg monastery and the theological faculty.
17 pianists from 13 countries met in Fulda, Germany from August 1st to 14th and moved into quarters at the Frauenberg monastery. In addition to intensive lessons from six renowned piano teachers and accompanying language courses, the participants were given the opportunity to perform at several concerts within the Pianale Piano Festival. In this combination of lessons and performances with a historical ambience, the Pianale competition is unique. The interest of young pianists from all over the world is correspondingly high.
The four finalists of this year's Pianale Intrnational Competition thrilled the audience in a sold out house at Schloss Fasanerie.
Rebecca Leung from England, Takahiro Tokita from Japan and Tomasz Zajac from Poland qualified for the grand finale over seven concerts in the 18 to 30 age group. For the first time, a junior candidate presented himself on the big stage: Julius Egensperger, 14 years old, from Munich and played his way into the hearts of the audience.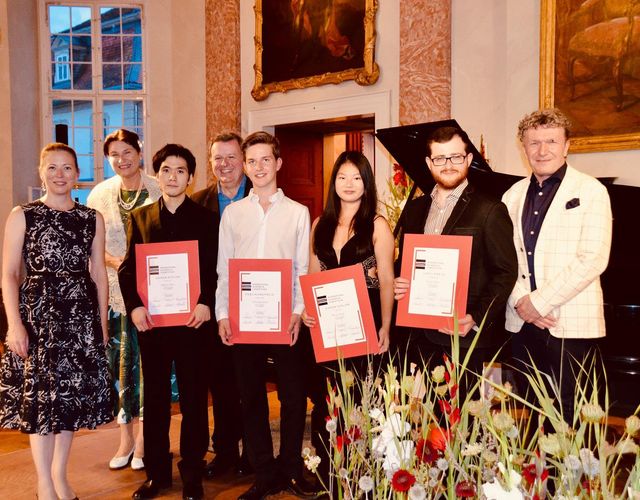 After the order was drawn, the four finalists presented themselves with works by Liszt, Rautavaara and Schumann.
After an exciting counting of the audience's votes and a secret vote by the jury, all four finalists were awarded with a scholarship and special prizes in the form of concert engagements.
The 14-year-old Julius Egensperger from Munich won the coveted audience award to enthusiastic applause and will perform in the orangery with an orchestra on October 31, 2021. The scholarship from the Lions Club Fulda, the special prize for the best learning success and the scholarship to participate in the Pianale 2022 also went to Julius Egensperger.
The jury chose Tomasc Zajac from Poland. The 27-year-old pianist also won the Polonius scholarship, the Maria Canals special award and the Steingraeber & Sons special award in connection with a performance in Bayreuth.
The scholarship of the Sparkasse Fulda and the special price of the city of Fulda (a concert appearance in the city series "Junge Elite" in the Fürstensaal) were awarded to Rebecca Leung.
The Japanese Takahiro Tokita was able to look forward to the Pianale Friends scholarship and the Eichenzell community award, which enables him to perform in the Eichenzeller Schlösschen on February 11, 2022.
Sourse: OstHessen News