Hello everyone! This is Ashley from Beijing, China. I'm a student from Capital Normal University,  majoring in German. This year I got a chance from GCA to participate in this remote internship of EMCY. I have always been thinking about my future, setting a goal, building a career, becoming a successful person and generally finding my own path in life. Life can be short sometimes, so I want to make every second worthwhile.
In my spare time I like to volunteer. I've taken part in FIBA World Cup 2019 as a volunteer in the Operation and Security Department for more than one month. I supervised the construction of the venues and gave feedback in time. Therefore I've learned how to write reports and contact with other departments.
At the moment I'm a volunteer at the Beijing 2022 Winter Olympic Games. To become a good volunteer takes hard work and time and can be extremely difficult sometimes but I'm willing to try my best.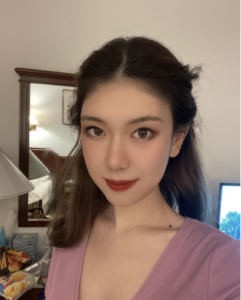 On the other hand, I'm a big fan of music. I've learned piano for more than 15 years and have written several pieces of songs on my own. Music and competitions are so fascinating to me! So this is also a big motivation for me to join EMCY.
Now my internship has just started. I'm so excited about it and can't wait to take part in the organisations' life. I hope I can give my own contribution and learn more about the cultural sector in Europe.