Once again, Jeunesses Musicales Deutschland invites talented young chamber music ensembles to an exquisite Masterclass in Weikersheim, from 2 to 13th September 2020!
The JM International Chamber Music Campus offers daily lessons with some of the world's most renowned professors for chamber music and promises ideal conditions for concentrated rehearsals as well as relaxation and enjoyment in the beautiful Castle grounds of the Music Academy Weikersheim.
The teachers in 2020 are:
– Vogler Quartett: Ensemble in Residence
Tim Vogler – violin
Frank Reinecke – violin
Stefan Fehlandt – viola
Stephan Forck – violoncello
– Heime Müller: artistic director, violin
– Rainer Schmidt: violin
– Péter Nagy: piano
The application deadline is 30th of April 2020.
A jury will select the ensembles to be invited based to their artistic-potential. All applicants will receive a positive or negative response in mid-May 2019. There will be a waiting list, from which ensembles may move up, should other ensembles fail to confirm their participation. Invited ensembles are requested to validate their participation by transferring a participation fee of 360 € per person (including housing and meals).
If you are an ensemble aiming for a professional career, this is your unique chance to develop, connect and shape your individual profile!
You can find more information and how to apply at this link.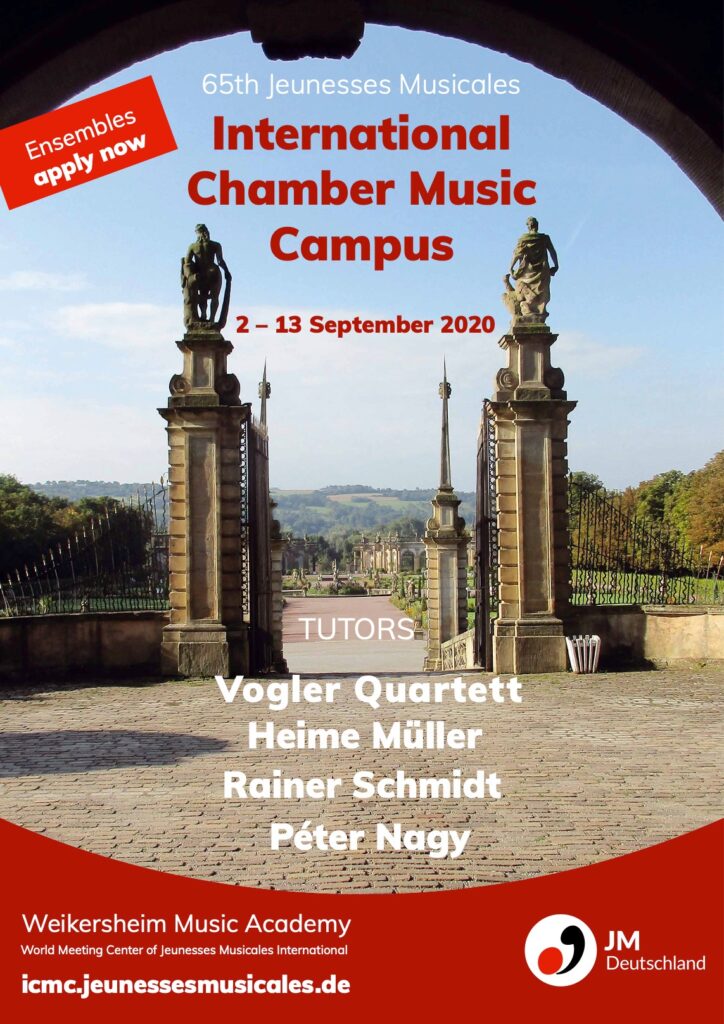 Photo Credit © Jeunesses Musicales Deutschland