This week, the Epoche_f masterclass starts a new round. The course offers an opportunity for more than 20 young musicians aged 14 to 25 to try their hand at works of the 21st and 20th centuries, guided by Ensemble Modern members as docents and a renowned guest conductor. Together, they decipher unknown scores, practice playing techniques typical of new music, and gradually shape a new sound experience in individual, group and tutti rehearsals.
This year the EMCY prize winners are:
Cello – Konstancja Śmietańska
Oboe – Rodrigo Sarabando
Viola – Klara Kotarsky
Percussion – Alexandre Silva
French horn – Estevão Neves
Bassoon  – Maria Azevedo Martins
Trombone – Jovaras Šiekštelė
Clarinet – Sofia Rocha
Violin – Jisu Son
The musicians will perform three concerts at the end of the masterclass in Wolfenbüttel, Hannover and Berlin on the following dates:
– on Thursday, 6th October 2022, which will be streamed live from the Landesmusikakademie Wolfenbüttel
– on Friday, 7th October 2022, 19 o'clock,  at the Christuskirche Hannover (Conrad-Wilhelm-Hase-Platz 1, 30167 Hannover)
– on Saturday 8th October 2022, 19 o'clock at the Atrium der Vertretung des Landes Niedersachsen beim Bund (In den Ministergärten 10, 10117 Berlin)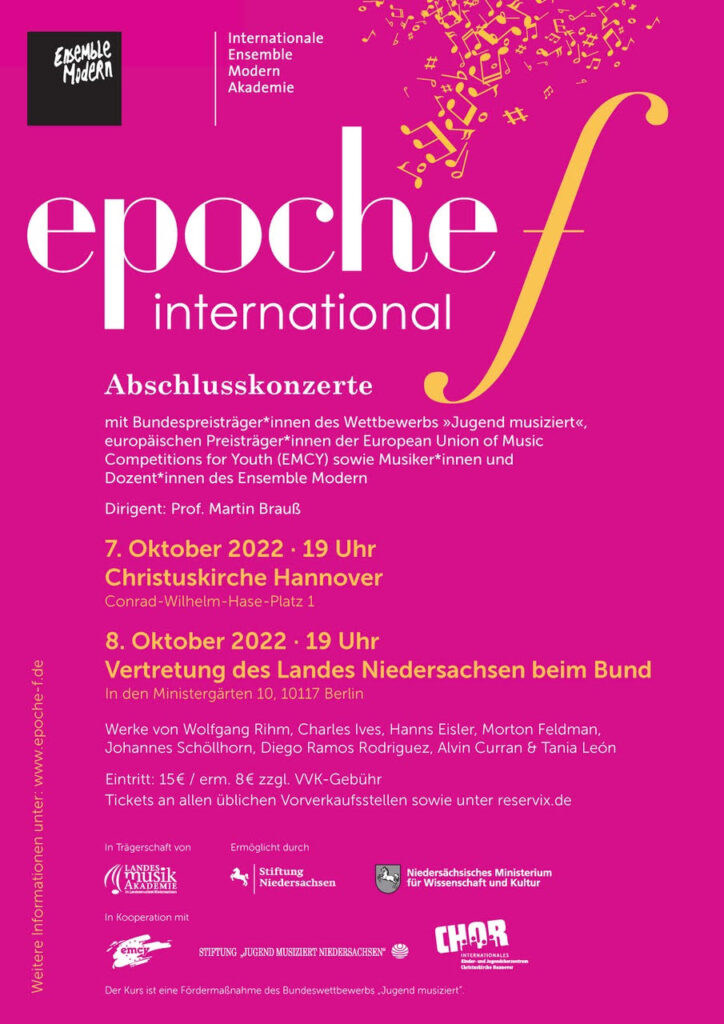 The master course Epoche_f is organised by the 
International Ensemble Modern Academy
 (IEMA) on behalf of the Foundation "
Jugend musiziert Niedersachsen
" in cooperation with EMCY and made possible by the Lower Saxony Foundation in cooperation with Allianz Kulturstiftung. The course is one of the training programmes of the Federal competition "Jugend musiziert".