The guitarist Ausiás Parejo Calabuig (Valencia, 2006) has won the 2022's first edition of  the Concurso Juventudes Musicales held on February 25, 26 and 27 at the Manuel de Falla Auditorium of the Royal Conservatory of Music in Madrid. In a final in which four guitarists competed, Ausiás Parejo unquestionably won the First Prize.
This edition of the Concurso Juventudes Musicales was the 102nd convocation of the contest, corresponding to the String modalities: Bow and Guitar. In the Bow category, the First Prize went to the cellist Carlos Vidal Ballester (Valencia, 2004). The Second Prize for Bow went to the violinist Jaime Naya Maceira (Guadalajara, 2000). Four other contestants completed the final: Gerard Flotats Boix (Solsona, 2001), Jorge Giménez Cerdó (Palma de Mallorca, 2001), Sofía Torres Durán (Jerez de la Frontera, 1999) and Alejandro Viana Herreros (Madrid, 1996).
10 participants were admitted to the face-to-face guitar eliminatory rounds, held on Friday, February 25, who passed a video pre-selection. 15 of the 26 who passed the pre-selection with video were admitted to the face-to-face bow phases, held on Saturday, February 26. The guitar finals took place on Saturday the 26th and the bow finals on Sunday the 27th of February and all of them were streamed on the JM Spain YouTube channel -recording available:
The prize for the winners is the performance of various concerts in the Red de Músicas , the JM Spain circuit: two seasons for the first prizes and one for the second.
The Guitar jury had the guitarists Pablo Sáinz-Villegas , Pedro Mateo and Gonzalo Noqué as vocalists. The one from bow category also included as vocalists the violinist Miguel Colom , the violist Ashan Pillai , the cellist Fernando Arias , the double bass player Rodrigo Moro and the cultural manager Raquel Rivera . Both juries were chaired by the composer Alfredo Aracil , who included Antonio Martín, general secretary of the Concurso Juventudes Musicales, as secretary without vote.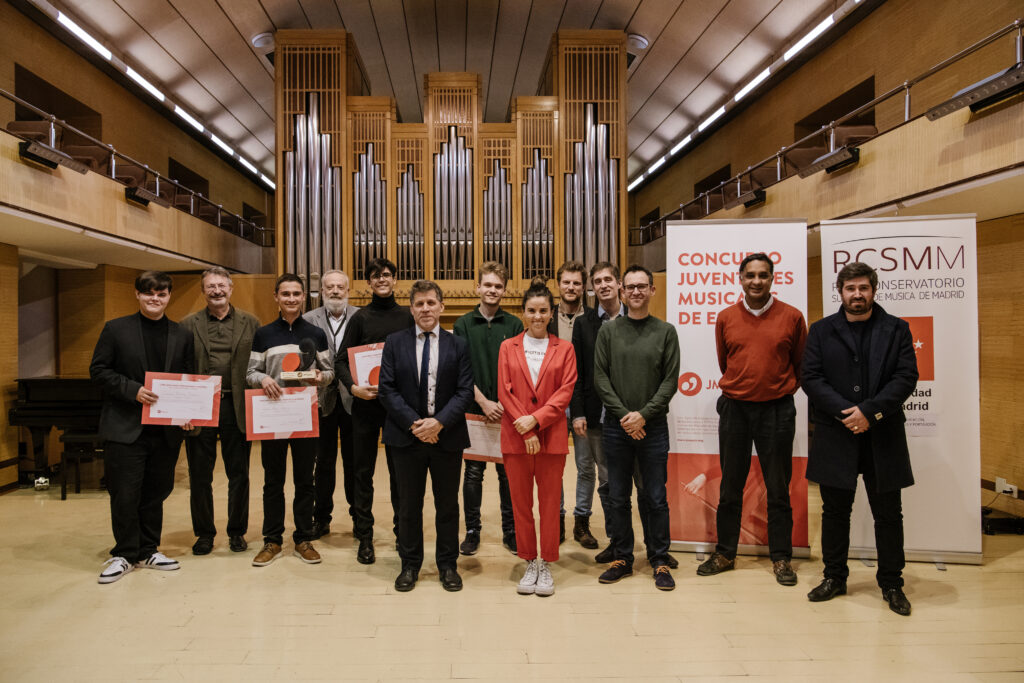 FIRST EDITION OF THE 2022-2023 BIENNIUM COMPETITION
With this 102 call, the 2022-2023 biennium began, after some rough and difficult editions due to the situation and restrictions due to the pandemic. This historic contest is the only national contest that summons all the instruments of classical music as well as jazz and early music, grouped in different calls (6 per biennium, as a result of 3 per year). The next edition of the contest, Piano Modality and Other Instruments Without Their Own Modality, will take place at the Madrid Royal Conservatory of Music on June 17, 18 and 19, 2022.