This year the Concours Luxembourgeois pour Jeunes Solistes & European Competition for Young Soloists arrived at its 35th edition and has brought to light new international talents especially flute, trumpet, and chamber music. 83 classic musicians, 73 soloists and 2 ensembles (10 candidates), from 11 different countries, have performed for an international jury. 83 medals have been awarded, 10 SACEM prizes and 22 special prizes have been recognized to most deserving artists.
The top laureates of the competition were Elisabeth Speyer (flute Piccolo), Nora Christnach (clarinet), Hy-Huu Dang (alto saxophone), Isabelle Kruithof (violin), Matis Griso (cello), and Léa Liflatter and Ginevra Messori (piano). For the European Competition for Young Soloists the top laureates were Alice Devitt (Luxembourg) and Lance Weisen (flute) (Luxembourg), Dorothea Tatalidis (trumpet) (Luxembourg) and chamber music groups Tralythemavi (Luxembourg) and Quintolamina (Luxembourg/Germany). The EMCY prize for 2018 was awarded to Dorothea Tatalidis and the "Jonk Soliste Präis" was conferred on Hy-Huu Dang.
In conclusion to these event laureates from the EMCY member competitions delighted the public with their exhibit. Val Kravos (Concours Luxembourgeois pour Jeunes Solistes) played a piano piece, followed by MOTRE, the trumpet ensemble made up of Simon Gabriel, Gian Duri Gabriel, Noa Sendlhofer and Janic Sendlhhofer (Schweizerischer Jugendmusikwettbewerb). Then the trio Let's Wood it composed of Lydia Küllinger which played the flute, Medeea Teodora Iftimie at the piano and Clara Sophie Hinterholzer with the bassoon entertained the audience (prima la musica). The Brass quintet, Quintolamina with laureates from the "Concours Luxembourgeois pour Jeunes Solistes et Concours Européen" Lucie Krysatis at the French horn and Michel Speyer at the trumpet as well as Ferdinand Schramm, Martin Schnitzer playing the trombone and Josef Schlemer at the tuba concluded this musical rhapsody.
In the framework of the competition, the UGDA Music School, with the generous support of the society of authors' rights SACEM Luxembourg, commissioned the composers Nik Bohnenberger, Ivan Boumans and Alexander Mullenbach to create 4 pieces, which were premiered during the competition.
Ugda Music School would like to give a special thanks to the Ministry of Culture, the Ministry of Education, all the institutions, sponsors and protectors who support the competition, notably the Conservatoire de la Ville de Luxembourg, which allows them to organise this competition every year and helps promote young musical talents from Luxembourg.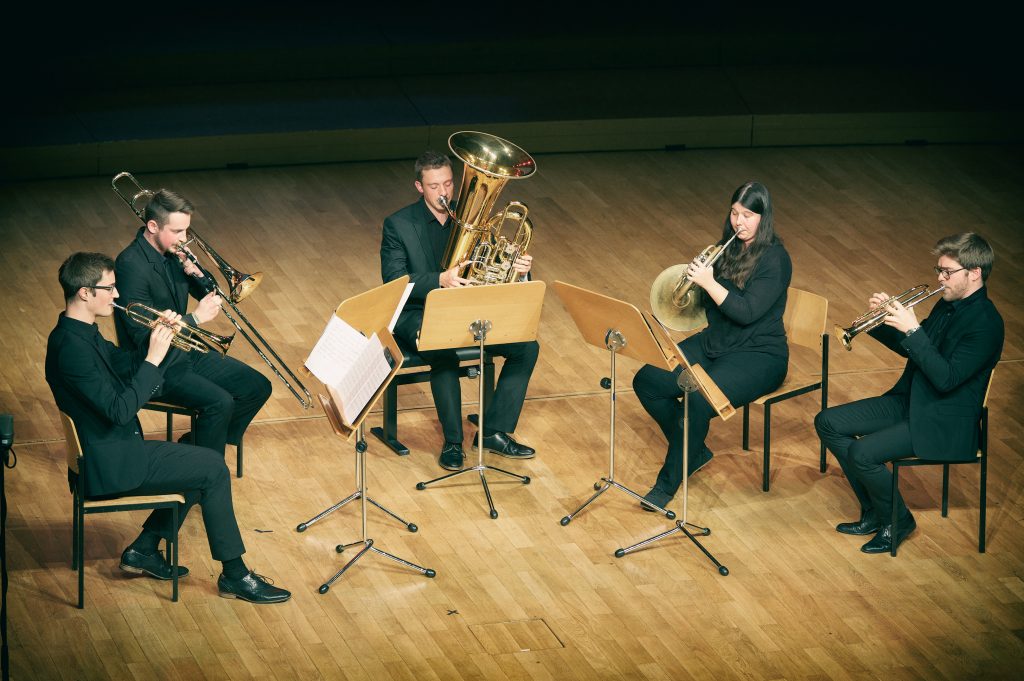 © Copyright Quintolamina (LU/DE) – Ferdinand Schramm et Michel Speyer, trumpet; Martin Schnitzer, trombone ; Lucie Krysatis, Frenchhorn; Josef Schlemer, tuba
Photo J.M. "Lupo" Ludowicy